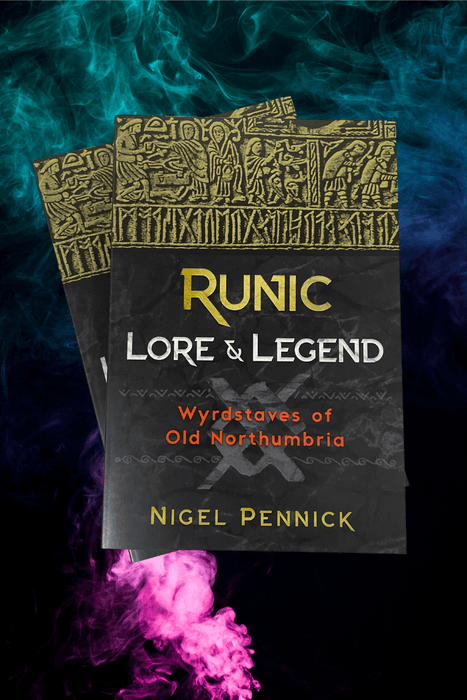 Runic Lore & Legend
Original price
$18.00
-
Original price
$18.00
Runic Lore & Legend ~ Wyrdstaves of Old Northumbria
Author: Nigel Pennick
In the early Anglo-Saxon period, the region of Great Britain known as Northumbria was a kingdom in its own right. These lands, in what is now northern England and southeast Scotland, were the targets of the first Viking raids on Britain.
This violent influx, followed by the establishment of trade routes with the Norse, brought the runes to the region, where they intermingled with local magical traditions and legends, resulting in the development of a practical runic wisdom entirely unique to Northumbria.

In this guide to the Wyrdstaves, or runic practices, of Old Northumbria, Nigel Pennick examines the thirty-three runes of the Anglo-Saxon Futhark and how they were used in Old England for weaving the web of Wyrd. Sharing runic lore and legends from the area, he explains how the Northumbrian runes are unique because they contain elements from all the cultures of the region, including the Picts, Britons, Romans, Angles, Scots, and Norse.
He illustrates how each rune in this tradition is a store-house of ancient knowledge, detailing the meanings, historical uses, symbolism, and related tree and plant spirits for each of the thirty-three runes. The author describes the Northumbrian use of runes in magic and encryption and explores geomancy divination practices, the role of sacred numbers, and the power of the eight airts, or directions. He also shows how the Northumbrian runes have a close relationship with Ogam, the tree alphabet of the ancient Celts.

Providing a magical history of Northumbria as well as a look at the other worldly beings who call these lands home, including boggarts, brownies, and dragons, Pennick explains how traditional spirituality is intimately tied to the landscape and the cycle of the seasons. He reveals how the runic tradition is still vibrantly alive in this area and ready for us to reawaken to it.

NIGEL PENNICK is an authority on ancient belief systems, traditions, runes, and geomancy and has traveled and lectured extensively in Europe and the United States. He is the author and illustrator of more than 50 books, including The Pagan Book of Days and Pagan Magic of the Northern Tradition. The founder of the Institute of Geomantic Research and the Library of the European Tradition, he lives near Cambridge, England.


ISBN:9781620557563
Format: Paperback
Availability:
2 in stock, ready to be shipped
SHIPPING

Standard Order Processing:

Up to 5 Business Days Post Order Date.

Orders are processed Mon-Fri, excluding public holidays, and specifically outlined holiday break periods.

Please see Shipping for more details
DISCLAIMER

Disclaimer:
ALL products available on this website are sold as curios only.

Dusty Rose Essentials is not responsible for any misuse or outcome of any product. No guarantee is offered for any outcome or result from the use of any product available on this website.

The information provided on this website is for educational purposes only, and accuracy is not guaranteed. It does not replace the advice from licensed medical professionals. It does not diagnose, prescribe for, or treat any health conditions.

Products including but not limited to herbs, resins, and oils are for incense and curios purposes only. 

Products are not for consumption.

Products are not sold for medicinal use and are not to be used for such purposes.

For medicinal purposes, you are required to secure the external services of a licensed medical professional. Dusty Rose Essentials does not provide such a service and does not supply products to suit.
CANDLE SAFETY

Customers must source current and up-to-date information prior to using all candles and must use them in a safe and responsible way. The information provided on this website and here is for general information only, and accuracy is not guaranteed. Dusty Rose Essentials is not liable for any misuse or outcome of any product.