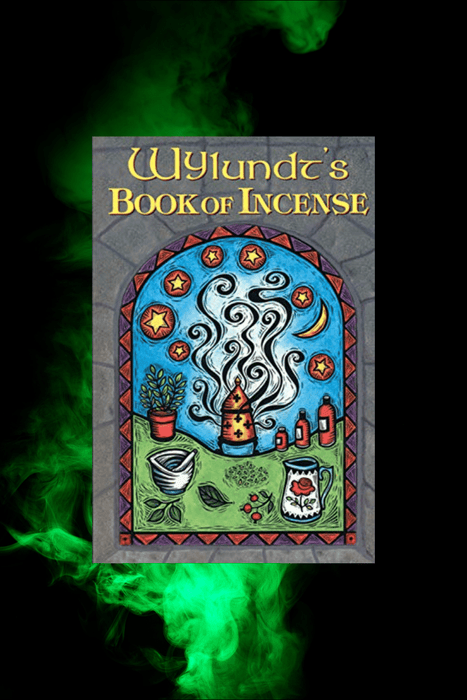 Wylundt's Book of Incense
Original price
$27.00
-
Original price
$27.00
Wylundt's Book of Incense
Author: Wylundt
The ultimate reference book about incense!
Wylundt provides recipes-from the most basic fragrance recipes to the more complicated ritual incenses and tells you how to make different kinds on incense including loose, cone, stick, and cylinder. He tells you how to work with herbs, defines them, explains what part of the plant to use, and even teaches how to gather, dry and store your own herbs. This is a book you will use forever.

"...First comprehensive handbook on making and using incense...provides technical data on incense ingredients, herbal listings...over 350recipes....An ideal workbook for the practicing magus...."-The Cauldron,No.54

"Wonderful reference book for all users of incense....Learn how to protect the home, change luck, make a room wholesome and fragrant....Wholeheartedly recommended." -Prediction Magazine

"This is an encyclopedia of incenses, arranged...to show their relationship to our psychic and physical selves. It discusses the different types of incense and how to make and burn them....An ideal guide."-Fate Magazine

"...[A] fundamental resource. Everything from pleasant fragrances to ritualistic incense is covered....Will appeal to Rosicrucian students of alchemy, Hermeticism, and herbal medicine...." -English Grand Lodge Bulletin

"Merits a place on the bookshelf of all practicing magicians and witches." -Ocular Newsletter
FORMAT: Paperback
ISBN: 9780877288695
Availability:
2 in stock, ready to be shipped
SHIPPING

Standard Order Processing:

Up to 5 Business Days Post Order Date.

Orders are processed Mon-Fri, excluding public holidays, and specifically outlined holiday break periods.

Please see Shipping for more details
DISCLAIMER

Disclaimer:
ALL products available on this website are sold as curios only.

Dusty Rose Essentials is not responsible for any misuse or outcome of any product. No guarantee is offered for any outcome or result from the use of any product available on this website.

The information provided on this website is for educational purposes only, and accuracy is not guaranteed. It does not replace the advice from licensed medical professionals. It does not diagnose, prescribe for, or treat any health conditions.

Products including but not limited to herbs, resins, and oils are for incense and curios purposes only. 

Products are not for consumption.

Products are not sold for medicinal use and are not to be used for such purposes.

For medicinal purposes, you are required to secure the external services of a licensed medical professional. Dusty Rose Essentials does not provide such a service and does not supply products to suit.
CANDLE SAFETY

Customers must source current and up-to-date information prior to using all candles and must use them in a safe and responsible way. The information provided on this website and here is for general information only, and accuracy is not guaranteed. Dusty Rose Essentials is not liable for any misuse or outcome of any product.