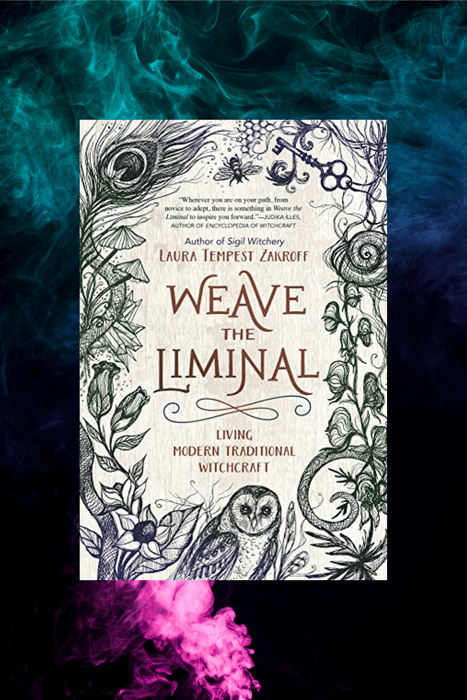 Weave The Liminal
Original price
$26.00
-
Original price
$26.00
Weave The Liminal ~ Living Modern Traditional Witchcraft
Author: Laura Tempest Zakroff
CREATE AN AUTHENTIC PATH OF WITCHCRAFT THAT WORKS FOR YOU

How does a modern Witch embrace tradition while navigating a complex contemporary life? How can you remain true to your own authenticity when you're surrounded by a whole world of magical theories, practices, deities, and paths?

Weave the Liminal explores what it means to truly be a Witch in the modern world. Through the accessible lens of Modern Traditional Witchcraft, Laura Tempest Zakroff helps you formulate a personalized Witchcraft practice and deepen your work with spirits, ancestors, familiars, and the energies of the liminal realm.
This book is a guide to connecting to your deepest feelings and intuitions about your roots, your sense of time, the sources of your inspiration, and the environments in which you live. It supports your experience of spellcrafting and ritual and teaches you about metaphysical topics like working with lunar correspondences and creating sacred space.

Modern Traditional Witchcraft is a path of self-discovery through experience. Let Weave the Liminal be your guide and companion as you explore the Craft and continue evolving the rich pattern of your magical life.
ISBN: 9780738756103


Format: Paperback
Availability:
Only 1 left!
SHIPPING

Standard Order Processing:

Up to 5 Business Days Post Order Date.

Orders are processed Mon-Fri, excluding public holidays, and specifically outlined holiday break periods.

Please see Shipping for more details
DISCLAIMER

Disclaimer:
ALL products available on this website are sold as curios only.

Dusty Rose Essentials is not responsible for any misuse or outcome of any product. No guarantee is offered for any outcome or result from the use of any product available on this website.

The information provided on this website is for educational purposes only, and accuracy is not guaranteed. It does not replace the advice from licensed medical professionals. It does not diagnose, prescribe for, or treat any health conditions.

Products including but not limited to herbs, resins, and oils are for incense and curios purposes only. 

Products are not for consumption.

Products are not sold for medicinal use and are not to be used for such purposes.

For medicinal purposes, you are required to secure the external services of a licensed medical professional. Dusty Rose Essentials does not provide such a service and does not supply products to suit.
CANDLE SAFETY

Customers must source current and up-to-date information prior to using all candles and must use them in a safe and responsible way. The information provided on this website and here is for general information only, and accuracy is not guaranteed. Dusty Rose Essentials is not liable for any misuse or outcome of any product.