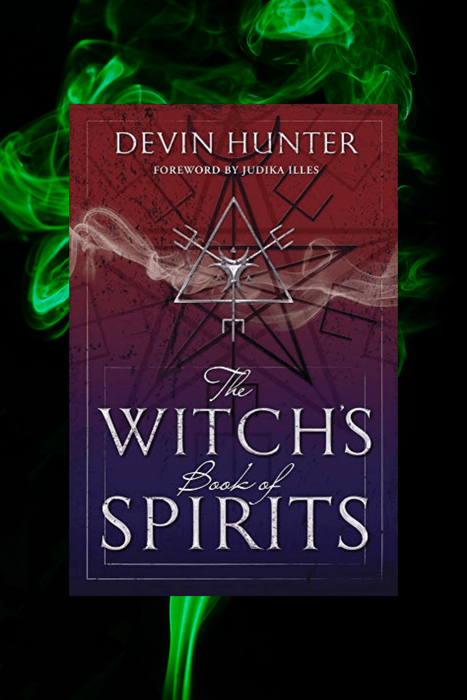 The Witch's Book of Spirits
Sold out
Original price
$26.00
-
Original price
$26.00
The Witch's Book of Spirits
Author: Devin Hunter, Forward by Judika Illes
DISCOVER THE WAYS OF THE SPIRITS AND MASTER THE ART OF COMMAND & INFLUENCE

Profound spiritual insights and powers await beyond the material world. In The Witch's Book of Spirits, Devin Hunter invites you to perform rituals and magic with spirit guides, familiars, angels, the deceased, faeries, and demons. Develop and enhance your relationships to your allies in spirit through soul flight, mediumship, and conjuration. Explore the inner workings of the Witch's Tree as well as the planes and peoples who dwell in its many layers. Expand the scope of your magic with the 33 Spirits, a system transmitted to the author by a special priesthood of spirits; his familiar, Malach; and the goddess Hecate. Working with spirits is the cornerstone of the witch's art. This book shows you how to stay in control as you increase your witch power and deepen your connection to forces seen and unseen.

"The most complete book on working with the dead ever written for witches...The Witch's Book of Spirits is also a guide to the worlds that generally lie just outside of our grasp and is a thorough look at the beings that live there."
-Jason Mankey, author of The Witch's Book of Shadows

Devin Hunter holds third-degree initiations in the Northern Star Tradition of Wicca as well as the Dianic Tradition of Witchcraft (the Cult of Diana), and he's the founder of his own tradition, Sacred Fires. He runs a podcast called The Modern Witch, teaches with the Black Rose School of Witchcraft, and emcees the New Orleans Witches' Ball. 
Format: Paperback
ISBN: 9780738751948
Availability:
Out of stock
SHIPPING

Standard Order Processing:

Up to 5 Business Days Post Order Date.

Orders are processed Mon-Fri, excluding public holidays, and specifically outlined holiday break periods.

Please see Shipping for more details
DISCLAIMER

Disclaimer:
ALL products available on this website are sold as curios only.

Dusty Rose Essentials is not responsible for any misuse or outcome of any product. No guarantee is offered for any outcome or result from the use of any product available on this website.

The information provided on this website is for educational purposes only, and accuracy is not guaranteed. It does not replace the advice from licensed medical professionals. It does not diagnose, prescribe for, or treat any health conditions.

Products including but not limited to herbs, resins, and oils are for incense and curios purposes only. 

Products are not for consumption.

Products are not sold for medicinal use and are not to be used for such purposes.

For medicinal purposes, you are required to secure the external services of a licensed medical professional. Dusty Rose Essentials does not provide such a service and does not supply products to suit.
CANDLE SAFETY

Customers must source current and up-to-date information prior to using all candles and must use them in a safe and responsible way. The information provided on this website and here is for general information only, and accuracy is not guaranteed. Dusty Rose Essentials is not liable for any misuse or outcome of any product.