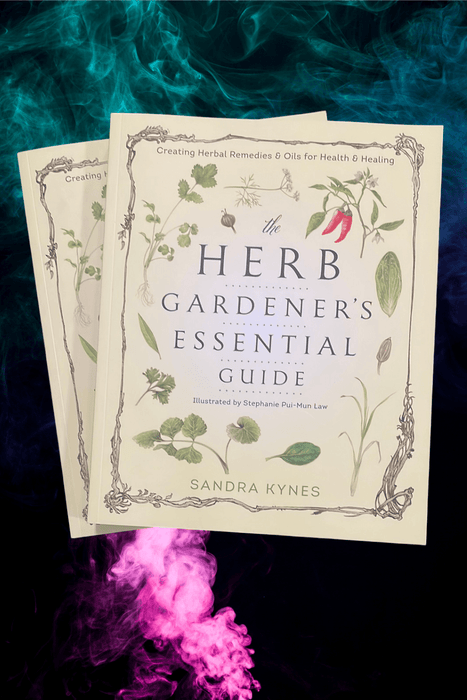 The Herb Gardener's Essential Guide
Original price
$28.00
-
Original price
$28.00
The Herb Gardener's Essential Guide ~ Creating Herbal Remedies & Oils for Health & Healing
Author: Sandra Kynes
Illustrated By: Stephanie Pui-Mun Law
IMPROVE YOUR HEALTH WITH THIS INDISPENSABLE GUIDE TO GARDENING, HERBS, AND ESSENTIAL OILS.

Learn how to use twenty-eight popular, easy-to-grow herbs to treat everyday ailments and maintain good health. From selecting plants to harvesting and storing them to making remedies and savouries of all sorts, The Herb Gardener's Essential Guide presents an abundance of practical and satisfying ways to incorporate herbs into a healthier lifestyle and diet.

Utilising both herbs and essential oils, this beautifully illustrated guide explains how to choose and make the ideal herbal mixture for a wide variety of medicinal and culinary uses. 
Need help getting to sleep? Try a cup of Thyme to Settle Tea. Add a sweet, spicy flavour to roast vegetables with Coriander Spiced Butter. Ease muscle pain and stiffness with soothing Rosemary Warming Massage Oil.
Featuring an ailments-and issues guide, instructions for creating a personalised apothecary garden, and detailed profiles for each of the herbs, this accessible book belongs on every gardener's shelf.
Availability:
Only 1 left!
SHIPPING

Standard Order Processing:

Up to 5 Business Days Post Order Date.

Orders are processed Mon-Fri, excluding public holidays, and specifically outlined holiday break periods.

Please see Shipping for more details
DISCLAIMER

Disclaimer:
ALL products available on this website are sold as curios only.

Dusty Rose Essentials is not responsible for any misuse or outcome of any product. No guarantee is offered for any outcome or result from the use of any product available on this website.

The information provided on this website is for educational purposes only, and accuracy is not guaranteed. It does not replace the advice from licensed medical professionals. It does not diagnose, prescribe for, or treat any health conditions.

Products including but not limited to herbs, resins, and oils are for incense and curios purposes only. 

Products are not for consumption.

Products are not sold for medicinal use and are not to be used for such purposes.

For medicinal purposes, you are required to secure the external services of a licensed medical professional. Dusty Rose Essentials does not provide such a service and does not supply products to suit.
CANDLE SAFETY

Customers must source current and up-to-date information prior to using all candles and must use them in a safe and responsible way. The information provided on this website and here is for general information only, and accuracy is not guaranteed. Dusty Rose Essentials is not liable for any misuse or outcome of any product.