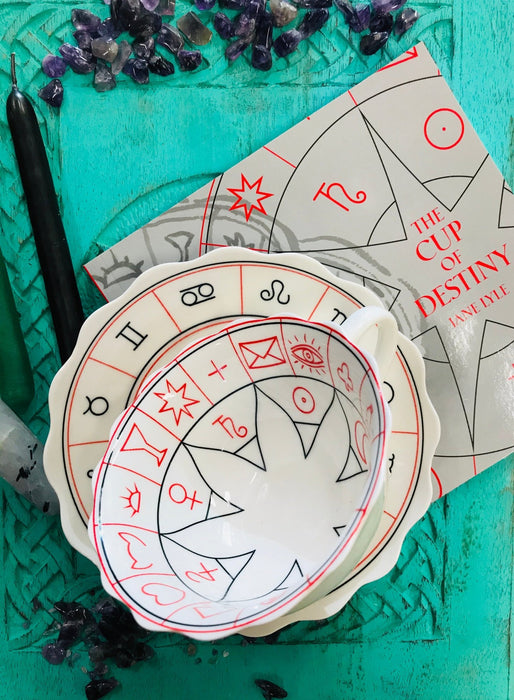 The Cup Of Destiny
Original price
$27.00
-
Original price
$27.00
The Cup Of Destiny by Jane Lyle
A traditional fortune-teller's cup and saucer plus illustrated book of interpretations in a boxed set.
"Learn the ancient art of reading tea leaves ~or coffee grounds ~ with this beautifully designed cup and saucer, based on an original Edwardian design. Reading leaves is a fun and easy way of making predictions for you, your friends, and family. The 96-page book illustrates and explains the meaning of over 200 symbols, so you can build up a full picture of the coming weeks.
If you see a horse, for example, you may need all your strength and patience in the next few days. An ivy leaf shows that you need endurance and faith now, but you will win the support of your friends. A heart near the rim of the cup means that love is not far away, while a cake may signify a celebration or party. Why not turn the kettle on now and start your first reading?"
Availability:
3 in stock, ready to be shipped
SHIPPING

Standard Order Processing:

Up to 5 Business Days Post Order Date.

Orders are processed Mon-Fri, excluding public holidays, and specifically outlined holiday break periods.

Please see Shipping for more details
DISCLAIMER

Disclaimer:
ALL products available on this website are sold as curios only.

Dusty Rose Essentials is not responsible for any misuse or outcome of any product. No guarantee is offered for any outcome or result from the use of any product available on this website.

The information provided on this website is for educational purposes only, and accuracy is not guaranteed. It does not replace the advice from licensed medical professionals. It does not diagnose, prescribe for, or treat any health conditions.

Products including but not limited to herbs, resins, and oils are for incense and curios purposes only. 

Products are not for consumption.

Products are not sold for medicinal use and are not to be used for such purposes.

For medicinal purposes, you are required to secure the external services of a licensed medical professional. Dusty Rose Essentials does not provide such a service and does not supply products to suit.
CANDLE SAFETY

Customers must source current and up-to-date information prior to using all candles and must use them in a safe and responsible way. The information provided on this website and here is for general information only, and accuracy is not guaranteed. Dusty Rose Essentials is not liable for any misuse or outcome of any product.