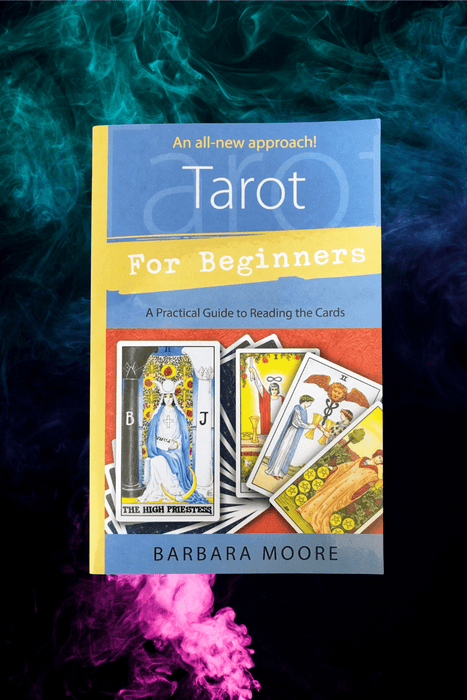 Tarot For Beginners
Original price
$24.00
-
Original price
$24.00
Tarot For Beginners ~ A Practical Guide To Reading The Cards
Author: Barbara Moore
Tarot for Beginners makes it easier than ever to learn all you need to know about reading the cards. Award-winning tarot expert Barbara Moore provides a complete foundation in tarot, clearly explaining each aspect while encouraging you to develop your own unique reading style. Begin with the history and myths behind tarot, and discover the meanings of all seventy-eight cards - broken down into suit, number, and major and minor arcana for simpler learning. You'll also explore symbols, reversals, spreads, interpretation techniques, tarot journaling, and more. Sample readings of predictive, prescriptive, interactive, and intuitive styles will also help you give insightful and fulfilling readings for yourself and others.

Availability:
Only 1 left!
SHIPPING

Standard Order Processing:

Up to 5 Business Days Post Order Date.

Orders are processed Mon-Fri, excluding public holidays, and specifically outlined holiday break periods.

Please see Shipping for more details
DISCLAIMER

Disclaimer:
ALL products available on this website are sold as curios only.

Dusty Rose Essentials is not responsible for any misuse or outcome of any product. No guarantee is offered for any outcome or result from the use of any product available on this website.

The information provided on this website is for educational purposes only, and accuracy is not guaranteed. It does not replace the advice from licensed medical professionals. It does not diagnose, prescribe for, or treat any health conditions.

Products including but not limited to herbs, resins, and oils are for incense and curios purposes only. 

Products are not for consumption.

Products are not sold for medicinal use and are not to be used for such purposes.

For medicinal purposes, you are required to secure the external services of a licensed medical professional. Dusty Rose Essentials does not provide such a service and does not supply products to suit.
CANDLE SAFETY

Customers must source current and up-to-date information prior to using all candles and must use them in a safe and responsible way. The information provided on this website and here is for general information only, and accuracy is not guaranteed. Dusty Rose Essentials is not liable for any misuse or outcome of any product.