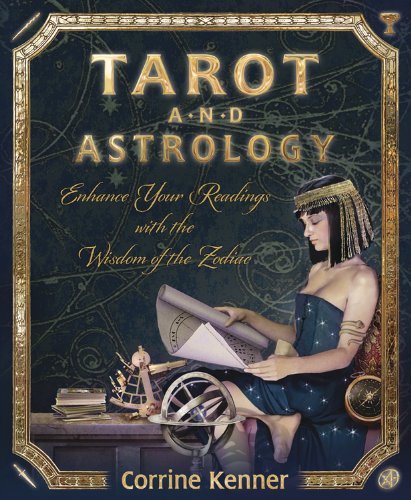 Tarot And Astrology
Original price
$31.00
-
Original price
$31.00
Tarot And Astrology ~ Enhance Your Readings with The Wisdom of the Zodiac
Author: Connie Kenner
Deeply entwined for six centuries, the art of tarot and the science of astrology have an undeniably powerful link. With this unique and user-friendly guidebook, you can easily learn to combine tarot and astrology for yourself—and expand your tarot practice while enriching your life.
Well-known tarot reader Corrine Kenner expertly teaches you everything you need to know, starting with tarot and astrology basics, the cards' archetypal symbols and imagery, the twelve signs of the zodiac, and the planets. You'll discover how every card in the tarot deck relates to astrology, and learn to: Read tarot cards and interpret an astrological chart, Recognize the twelve houses' ruling signs and planets, Pair the planets, signs, and houses with their corresponding tarot cards, Understand the astrological associations of the Minor Arcana, Make connections among the Court Cards, tarot suits, and the four elements, Identify each card's qabalistic associations, Give insightful readings for yourself and others.
You'll also find practical astrological spreads, interpretive techniques, real-life examples, and sample readings for everyday people and famous figures, including Salvador Dali, Marilyn Monroe, and Prince William.
Availability:
Only 1 left!
SHIPPING

Standard Order Processing:

Up to 5 Business Days Post Order Date.

Orders are processed Mon-Fri, excluding public holidays, and specifically outlined holiday break periods.

Please see Shipping for more details
DISCLAIMER

Disclaimer:
ALL products available on this website are sold as curios only.

Dusty Rose Essentials is not responsible for any misuse or outcome of any product. No guarantee is offered for any outcome or result from the use of any product available on this website.

The information provided on this website is for educational purposes only, and accuracy is not guaranteed. It does not replace the advice from licensed medical professionals. It does not diagnose, prescribe for, or treat any health conditions.

Products including but not limited to herbs, resins, and oils are for incense and curios purposes only. 

Products are not for consumption.

Products are not sold for medicinal use and are not to be used for such purposes.

For medicinal purposes, you are required to secure the external services of a licensed medical professional. Dusty Rose Essentials does not provide such a service and does not supply products to suit.
CANDLE SAFETY

Customers must source current and up-to-date information prior to using all candles and must use them in a safe and responsible way. The information provided on this website and here is for general information only, and accuracy is not guaranteed. Dusty Rose Essentials is not liable for any misuse or outcome of any product.