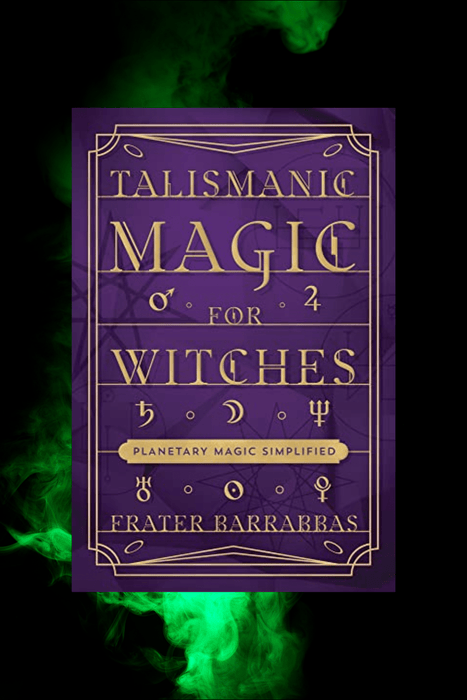 Talismanic Magic for Witches
Original price
$33.00
-
Original price
$33.00
Talismanic Magic for Witches ~ Planetary Magic Simplified
Author: Frater Barrabbas
POWER YOUR WITCHCRAFT WITH THE CELESTIAL MAGIC OF TALISMANS
Filled with advanced planetary and zodiacal magic, this book shows you how to make talismans-materialized spells that are continually and perpetually operating for your benefit. It teaches you how to encapsulate a wish and charge it with the energies of the elements, spirits, and archetypes of the gods. You will also learn the best times to generate these magical artifacts using planetary hours, days, and astrological auspices. With this comprehensive explanation of celestial magic, you can make a charmed life possible for yourself, your loved ones, and even potential clients.

A companion to Spirit Conjuring for Witches and Elemental Power for Witches, this book covers the mansions of the moon, the planets, and the zodiac signs. Frater Barrabbas also explains astrological decans and a new, elemental division of the zodiac signs called astrological septans. Through this book's rituals, you can work celestial magic and fashion a battery of specific talismans to help build the life you have always dreamed of having.
FORMAT: Paperback 
ISBN: 9780738774169
Availability:
Only 1 left!
SHIPPING

Standard Order Processing:

Up to 5 Business Days Post Order Date.

Orders are processed Mon-Fri, excluding public holidays, and specifically outlined holiday break periods.

Please see Shipping for more details
DISCLAIMER

Disclaimer:
ALL products available on this website are sold as curios only.

Dusty Rose Essentials is not responsible for any misuse or outcome of any product. No guarantee is offered for any outcome or result from the use of any product available on this website.

The information provided on this website is for educational purposes only, and accuracy is not guaranteed. It does not replace the advice from licensed medical professionals. It does not diagnose, prescribe for, or treat any health conditions.

Products including but not limited to herbs, resins, and oils are for incense and curios purposes only. 

Products are not for consumption.

Products are not sold for medicinal use and are not to be used for such purposes.

For medicinal purposes, you are required to secure the external services of a licensed medical professional. Dusty Rose Essentials does not provide such a service and does not supply products to suit.
CANDLE SAFETY

Customers must source current and up-to-date information prior to using all candles and must use them in a safe and responsible way. The information provided on this website and here is for general information only, and accuracy is not guaranteed. Dusty Rose Essentials is not liable for any misuse or outcome of any product.