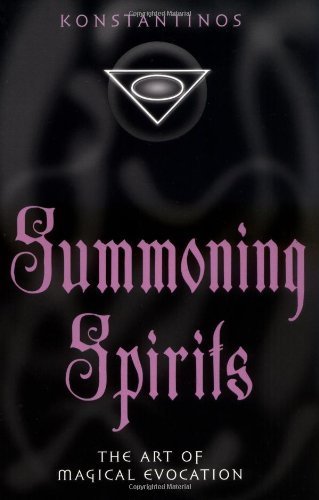 Summoning Spirits
Sold out
Original price
$34.95
-
Original price
$34.95
Summoning Spirits ~ The Art Of Magical Evocation
Author: Konstantinos
Now you can learn how to evoke and communicate with 50 spirit entities and make use of their abilities when you get Summoning Spirits by Konstantinos. Evoking spirits is one of the most powerful magical techniques you can use-but, until now, most of the material available on evocation has been virtually unusable because it was written by those with little practical evocation experience.
Summoning Spirits was written by a practicing magician who has successfully performed many evocations. With his guidance and clear directions, performing evocations will be easy and safe for anyone.
Learn to safely evoke powerful spirits to aid you with any task
Create sigils charged with the energy of spirits to magnify the effects of your evocations
Make an etheric egregore, a manufactured spirit that will perform the task of your choice
Perform easy exercises to train your magical abilities and to develop clairvoyance and clairaudience.
Construct, prepare, and use special magical tools to aid your evocations
Whether you need help to face life's challenges or to work a minor miracle, you will find the art of magical evocation a tremendously potent tool for change. Included are information and theory, as well as full instructions for all the rituals you will need to prepare for and then evoke spirits. No other book makes this ancient magical technique as easy to understand and use, as does this one. 
Availability:
Out of stock
SHIPPING

Standard Order Processing:

Up to 5 Business Days Post Order Date.

Orders are processed Mon-Fri, excluding public holidays, and specifically outlined holiday break periods.

Please see Shipping for more details
DISCLAIMER

Disclaimer:
ALL products available on this website are sold as curios only.

Dusty Rose Essentials is not responsible for any misuse or outcome of any product. No guarantee is offered for any outcome or result from the use of any product available on this website.

The information provided on this website is for educational purposes only, and accuracy is not guaranteed. It does not replace the advice from licensed medical professionals. It does not diagnose, prescribe for, or treat any health conditions.

Products including but not limited to herbs, resins, and oils are for incense and curios purposes only. 

Products are not for consumption.

Products are not sold for medicinal use and are not to be used for such purposes.

For medicinal purposes, you are required to secure the external services of a licensed medical professional. Dusty Rose Essentials does not provide such a service and does not supply products to suit.
CANDLE SAFETY

Customers must source current and up-to-date information prior to using all candles and must use them in a safe and responsible way. The information provided on this website and here is for general information only, and accuracy is not guaranteed. Dusty Rose Essentials is not liable for any misuse or outcome of any product.