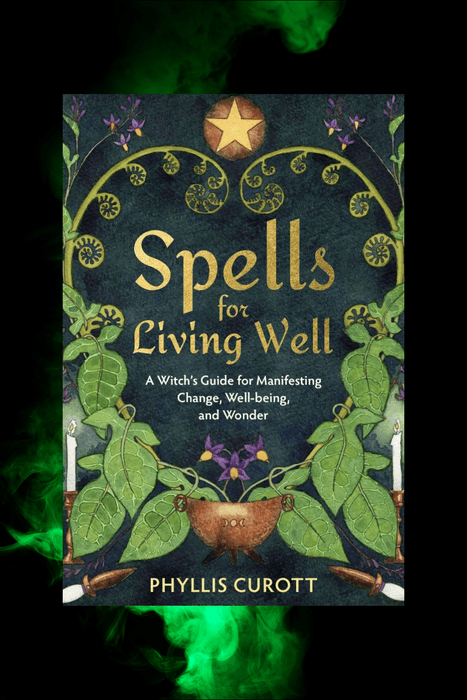 Spells For Living Well
Sold out
Original price
$24.99
-
Original price
$24.99
Spells For Living Well ~ A Witch's Guide for Manifesting Change, Well-Being, and Wonder 
Author: Phyllis Curott
Spells to enchant your life and re-enchant the world!
If you've ever wondered whether casting spells can change your life, or if you long to strengthen your skills and deepen the spirituality of your practice, this is the perfect guide to fill your life with the magic that makes all things possible.
Curated from esteemed Wiccan Priestess Phyllis Curott's personal Grimoires and a divinely magical life to bring enchantment to your life, the spells within will help you to manifest love and abundance, nourish self-care and peace of mind, release the past and liberate your spirit, summon the strength and power of your purpose, and awaken you to the magic of Mother Earth and the wonder of life.
Cast these spells and you'll manifest the most important magic of all: Your spells will change you and empower you to change the world.
PHYLLIS CUROTT is one of America's first public Witches, an attorney who secured the rights of Witches, the most widely published and best-selling Wiccan author in the world.
FORMAT: Paperpack
ISBN: 9781401972684
Availability:
Out of stock
SHIPPING

Standard Order Processing:

Up to 5 Business Days Post Order Date.

Orders are processed Mon-Fri, excluding public holidays, and specifically outlined holiday break periods.

Please see Shipping for more details
DISCLAIMER

Disclaimer:
ALL products available on this website are sold as curios only.

Dusty Rose Essentials is not responsible for any misuse or outcome of any product. No guarantee is offered for any outcome or result from the use of any product available on this website.

The information provided on this website is for educational purposes only, and accuracy is not guaranteed. It does not replace the advice from licensed medical professionals. It does not diagnose, prescribe for, or treat any health conditions.

Products including but not limited to herbs, resins, and oils are for incense and curios purposes only. 

Products are not for consumption.

Products are not sold for medicinal use and are not to be used for such purposes.

For medicinal purposes, you are required to secure the external services of a licensed medical professional. Dusty Rose Essentials does not provide such a service and does not supply products to suit.
CANDLE SAFETY

Customers must source current and up-to-date information prior to using all candles and must use them in a safe and responsible way. The information provided on this website and here is for general information only, and accuracy is not guaranteed. Dusty Rose Essentials is not liable for any misuse or outcome of any product.