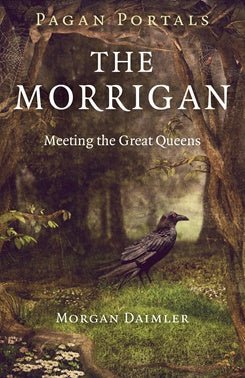 Pagan Portals The Morrigan
Sold out
Original price
$13.99
-
Original price
$13.99
Pagan Portals The Morrigan ~ Meeting The Great Queens
Author: Morgan Daimler
On shadowed wings and in raven's call, meet the ancient Irish goddess of war, battle, prophecy, death, sovereignty, and magic.
This book is an introduction to the Morrigan and several related goddesses who share the title, including Badb and Macha. It combines solid academic information with personal experience in a way that is intended to dispel the confusion that often surrounds who this goddess was and is.
The Morrigan is as active in the world today as she ever was in the past but answering her call means answering the challenge of finding her history and myth in a sea of misinformation, supposition, and hard-to-find ancient texts. Here in one place, all of her basic information has been collected along with personal experiences and advice from a long-time priestess dedicated to a goddess who bears the title Morrigan.
Availability:
Out of stock
SHIPPING

Standard Order Processing:

Up to 5 Business Days Post Order Date.

Orders are processed Mon-Fri, excluding public holidays, and specifically outlined holiday break periods.

Please see Shipping for more details
DISCLAIMER

Disclaimer:
ALL products available on this website are sold as curios only.

Dusty Rose Essentials is not responsible for any misuse or outcome of any product. No guarantee is offered for any outcome or result from the use of any product available on this website.

The information provided on this website is for educational purposes only, and accuracy is not guaranteed. It does not replace the advice from licensed medical professionals. It does not diagnose, prescribe for, or treat any health conditions.

Products including but not limited to herbs, resins, and oils are for incense and curios purposes only. 

Products are not for consumption.

Products are not sold for medicinal use and are not to be used for such purposes.

For medicinal purposes, you are required to secure the external services of a licensed medical professional. Dusty Rose Essentials does not provide such a service and does not supply products to suit.
CANDLE SAFETY

Customers must source current and up-to-date information prior to using all candles and must use them in a safe and responsible way. The information provided on this website and here is for general information only, and accuracy is not guaranteed. Dusty Rose Essentials is not liable for any misuse or outcome of any product.