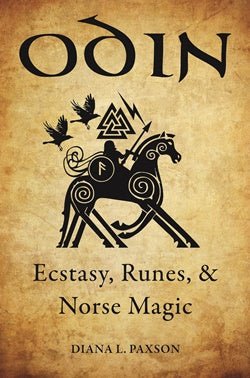 Odin ~ Ecstasy, Runes & Norse Magic
Original price
$32.00
-
Original price
$32.00
"Seeking The God With many Names
Among the most enigmatic and complex characters in Norse mythology, Odin has been called the greatest of the gods. He is the god of words ans wisdom, runes and magic; a transformer of consciousness; and a trickster who teaches truth. He is both a war god and a poetry god, and he is the Lord of Ravens, the All-Father, and the rune master.
Odin: Ecstasy, Runes, and Norse Magic is the first book on Odin that is both holistically sourced and accessible to a general audience. It explores Odin's origins; his appearances in sagas, the Poetic Edda, and old magic spells and new entertainments, such as Neigh Gaiman's American Gods; as well as his influence on modern media, such as J.R.R Tolkien's Lord of The Rings trilogy.  Each chapter features suggestions for rituals, exercises, and music, so readers can comprehend and become closer to this profound and complicated deity." 
Availability:
Only 1 left!
SHIPPING

Standard Order Processing:

Up to 5 Business Days Post Order Date.

Orders are processed Mon-Fri, excluding public holidays, and specifically outlined holiday break periods.

Please see Shipping for more details
DISCLAIMER

Disclaimer:
ALL products available on this website are sold as curios only.

Dusty Rose Essentials is not responsible for any misuse or outcome of any product. No guarantee is offered for any outcome or result from the use of any product available on this website.

The information provided on this website is for educational purposes only, and accuracy is not guaranteed. It does not replace the advice from licensed medical professionals. It does not diagnose, prescribe for, or treat any health conditions.

Products including but not limited to herbs, resins, and oils are for incense and curios purposes only. 

Products are not for consumption.

Products are not sold for medicinal use and are not to be used for such purposes.

For medicinal purposes, you are required to secure the external services of a licensed medical professional. Dusty Rose Essentials does not provide such a service and does not supply products to suit.
CANDLE SAFETY

Customers must source current and up-to-date information prior to using all candles and must use them in a safe and responsible way. The information provided on this website and here is for general information only, and accuracy is not guaranteed. Dusty Rose Essentials is not liable for any misuse or outcome of any product.