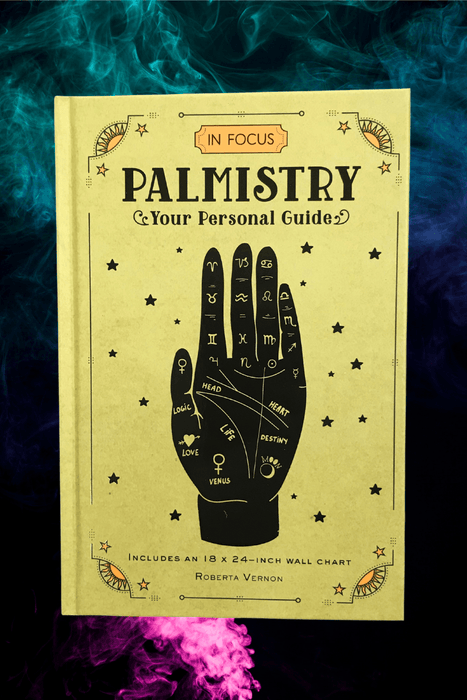 In Focus Palmistry
Original price
$20.00
-
Original price
$20.00
In Focus Palmistry 
 From the life line to the heart line, In Focus Palmistry gives a comprehensive overview of what our hands are telling us. From analyzing palms, fingers, fingerprints, mounts, and nails, find the hidden strengths and weaknesses within yourself and others.
Included inside the back cover is a beautifully illustrated 18 × 24–inch wall chart that gives the key elements about palmistry in one convenient reference.
Can your hands unveil your future? Author Roberta Vernon explores this question in the introduction. Each chapter addresses a different aspect of palmistry, including: looking at hands; the life line; the head line; the heart line; the fate line; the Apollo line or sun line; marks, colors, and warts; and skin ridge patterns.
 The In Focus series applies a modern approach to teaching the classic body, mind, and spirit subjects. Authored by experts in their respective fields, these beginner's guides feature smartly designed visual material that clearly illustrates key topics within each subject. As a bonus, each book holds reference cards or a poster, held in an envelope inside the back cover, to give you a quick, go-to guide containing the most important information on the subject.
Availability:
Only 1 left!
SHIPPING

Standard Order Processing:

Up to 5 Business Days Post Order Date.

Orders are processed Mon-Fri, excluding public holidays, and specifically outlined holiday break periods.

Please see Shipping for more details
DISCLAIMER

Disclaimer:
ALL products available on this website are sold as curios only.

Dusty Rose Essentials is not responsible for any misuse or outcome of any product. No guarantee is offered for any outcome or result from the use of any product available on this website.

The information provided on this website is for educational purposes only, and accuracy is not guaranteed. It does not replace the advice from licensed medical professionals. It does not diagnose, prescribe for, or treat any health conditions.

Products including but not limited to herbs, resins, and oils are for incense and curios purposes only. 

Products are not for consumption.

Products are not sold for medicinal use and are not to be used for such purposes.

For medicinal purposes, you are required to secure the external services of a licensed medical professional. Dusty Rose Essentials does not provide such a service and does not supply products to suit.
CANDLE SAFETY

Customers must source current and up-to-date information prior to using all candles and must use them in a safe and responsible way. The information provided on this website and here is for general information only, and accuracy is not guaranteed. Dusty Rose Essentials is not liable for any misuse or outcome of any product.