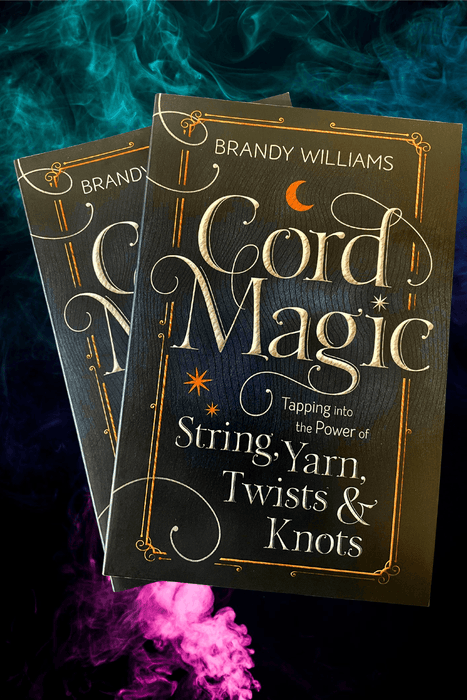 Cord Magic
Original price
$23.00
-
Original price
$23.00
Cord Magic ~ Tapping into the power of string, yarn, twists & knots
Author: Brandy Williams
Cord magic is one of the easiest and most satisfying ways to make magic. This book shows you how to quickly and effectively twist your own magical cords, with specific tips for choosing colors, setting your intention, charging the cords, and incorporating powerful knot spells.
You will discover dozens of hands-on instructional worksheets and specific project ideas for a myriad of magical purposes, including protection, transitions, finding new love, improving one's creative life, celebrating a handfasting, and many more.
Cord magic is portable and versatile...you can twist a cord in a matter of minutes, whether you're at home or out in public. You can wear a magically charged cord as an accessory or simply carry one in a pocket or bag. This book explores the history of cord magic and it teaches everything you need to know about the tools and techniques you need to create your own magical twists and knots.
Availability:
Only 1 left!
SHIPPING

Standard Order Processing:

Up to 5 Business Days Post Order Date.

Orders are processed Mon-Fri, excluding public holidays, and specifically outlined holiday break periods.

Please see Shipping for more details
DISCLAIMER

Disclaimer:
ALL products available on this website are sold as curios only.

Dusty Rose Essentials is not responsible for any misuse or outcome of any product. No guarantee is offered for any outcome or result from the use of any product available on this website.

The information provided on this website is for educational purposes only, and accuracy is not guaranteed. It does not replace the advice from licensed medical professionals. It does not diagnose, prescribe for, or treat any health conditions.

Products including but not limited to herbs, resins, and oils are for incense and curios purposes only. 

Products are not for consumption.

Products are not sold for medicinal use and are not to be used for such purposes.

For medicinal purposes, you are required to secure the external services of a licensed medical professional. Dusty Rose Essentials does not provide such a service and does not supply products to suit.
CANDLE SAFETY

Customers must source current and up-to-date information prior to using all candles and must use them in a safe and responsible way. The information provided on this website and here is for general information only, and accuracy is not guaranteed. Dusty Rose Essentials is not liable for any misuse or outcome of any product.