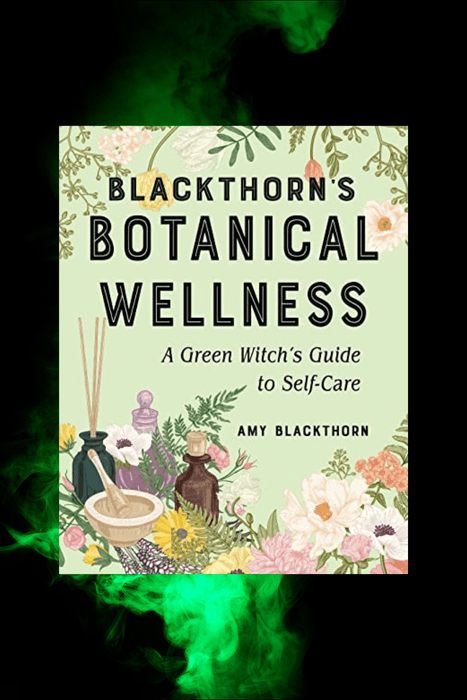 Blackthorn's Botanical Wellness
Original price
$27.00
-
Original price
$27.00
Blackthorn's Botanical Wellness ~ A Green Witch's Guide to Self-Care
Author: Amy Blackthorn
"The best life starts within, looking outward," writes Amy Blackthorn in this simultaneously practical and personal guide to wellness and healing.  Blackthorn, a master herbalist, aromatherapist, and prolific author, explores methods of wellness management using both mystical and mundane tools and techniques.

Amy's book features essential oils, plants, meditation, tarot, astrology, and personal sigils tailored to your own specific needs and circumstances. She also describes her own journey to well-being and shares the lessons she's learned, including how to develop healthy mind-body habits and to stop relying on fear and shame-based rituals for self-care that ultimately produce results that are the very opposite of what is desired. Instead, Blackthorn's Botanical Wellness supplies holistic solutions that enable you to lead your best life.

Amy Blackthorn is a professional intuitive and the bestselling author of Blackthorn's Botanical Magic, Sacred Smoke, Blackthorn's Botanical Brews, and Blackthorn's Protection Magic. The founder of Blackthorn's Botanicals, she has a certification in aromatherapy and was ordained by the Order of the Golden Gryphon. 
Format: Paperback
ISBN 9781578637782
Availability:
4 in stock, ready to be shipped
SHIPPING

Standard Order Processing:

Up to 5 Business Days Post Order Date.

Orders are processed Mon-Fri, excluding public holidays, and specifically outlined holiday break periods.

Please see Shipping for more details
DISCLAIMER

Disclaimer:
ALL products available on this website are sold as curios only.

Dusty Rose Essentials is not responsible for any misuse or outcome of any product. No guarantee is offered for any outcome or result from the use of any product available on this website.

The information provided on this website is for educational purposes only, and accuracy is not guaranteed. It does not replace the advice from licensed medical professionals. It does not diagnose, prescribe for, or treat any health conditions.

Products including but not limited to herbs, resins, and oils are for incense and curios purposes only. 

Products are not for consumption.

Products are not sold for medicinal use and are not to be used for such purposes.

For medicinal purposes, you are required to secure the external services of a licensed medical professional. Dusty Rose Essentials does not provide such a service and does not supply products to suit.
CANDLE SAFETY

Customers must source current and up-to-date information prior to using all candles and must use them in a safe and responsible way. The information provided on this website and here is for general information only, and accuracy is not guaranteed. Dusty Rose Essentials is not liable for any misuse or outcome of any product.