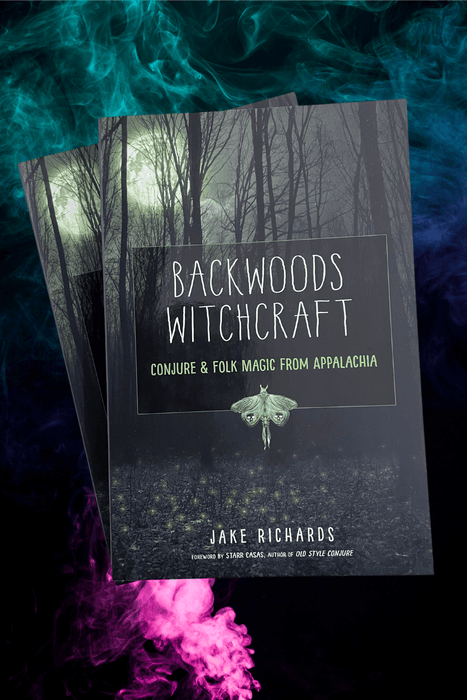 Backwoods Witchcraft
Sold out
Original price
$23.00
-
Original price
$23.00
Backwoods Witchcraft ~ Conjure, Folk Magic From Appalachia
Author: Jake Richards
In Backwoods Witchcraft, Jake Richards offers up a folksy stew of family stories, lore, omens, rituals, and conjure crafts that he learned from his great-grandmother, his grandmother, and his grandfather, a Baptist minister who Jake remembers could "rid someone of a fever with an egg or stop up the blood in a wound."
The witchcraft practiced in Appalachia is very much a folk magic of place, a tradition that honors the seen and unseen beings that inhabit the land as well as the soil, roots, and plant life. The materials and tools used in Appalachia witchcraft are readily available from the land.
This "grounded approach" will be of keen interest to witches and conjure folk regardless of where they live. Listeners will be guided in how to build relationships with the spirits and other beings that dwell around them and how to use the materials and tools that are readily available on the land where one lives.
This book also provides instructions on how to create a working space and altar and make conjure oils and powders. A wide array of tried-and-true formulas are also offered for creating wealth, protecting one from gossip, spiritual cleansing, and more.
ISBN: 9781578636532
Format: Paperback
Availability:
Out of stock
SHIPPING

Standard Order Processing:

Up to 5 Business Days Post Order Date.

Orders are processed Mon-Fri, excluding public holidays, and specifically outlined holiday break periods.

Please see Shipping for more details
DISCLAIMER

Disclaimer:
ALL products available on this website are sold as curios only.

Dusty Rose Essentials is not responsible for any misuse or outcome of any product. No guarantee is offered for any outcome or result from the use of any product available on this website.

The information provided on this website is for educational purposes only, and accuracy is not guaranteed. It does not replace the advice from licensed medical professionals. It does not diagnose, prescribe for, or treat any health conditions.

Products including but not limited to herbs, resins, and oils are for incense and curios purposes only. 

Products are not for consumption.

Products are not sold for medicinal use and are not to be used for such purposes.

For medicinal purposes, you are required to secure the external services of a licensed medical professional. Dusty Rose Essentials does not provide such a service and does not supply products to suit.
CANDLE SAFETY

Customers must source current and up-to-date information prior to using all candles and must use them in a safe and responsible way. The information provided on this website and here is for general information only, and accuracy is not guaranteed. Dusty Rose Essentials is not liable for any misuse or outcome of any product.