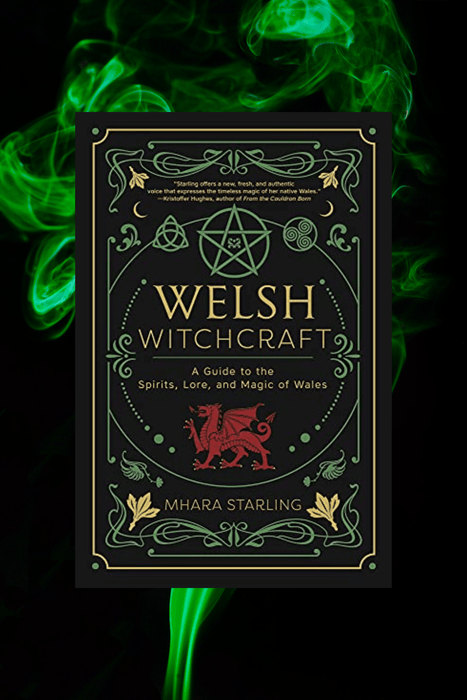 Welsh Witchcraft
Sold out
Original price
$25.00
-
Original price
$25.00
Welsh Witchcraft ~ A guide to the spirits, lore, and magic of Wales
Author: Mhara Starling
A NEW APPROACH TO WITCHCRAFTBASED ON WELSH TRADITIONS
Enter a world of sacred lakes, healing herbs, spectral hounds, and the mighty red dragon. Written by a Welsh practitioner, this inspiring book shares the magical traditions of Wales-including fairies, folklore, and charms-with dozens of hands-on activities. Mhara Starling shows you how you can incorporate Welsh and Celtic folk magic into your modern witchcraft practice with exercises for celebrating those who came before, protecting against adversity, changing the weather, and more. You'll also discover methods for honouring the land and ways to connect with Cerridwen, Rhiannon, and other deities. Welsh Witchcraft invites you to explore this country's rich heritage and use it to empower your spirituality.

Mhara Starling was born in North Wales, raised on the Isle of Anglesey, and is a native Welsh speaker. She has been practicing witchcraft from a very young age, and her witchcraft videos on TikTok have more than a million views. Mhara is a celebrant and a tarot reader, and she runs moots, gatherings, and open rituals. She was featured in the BBC Wales documentary series Young, Welsh and Pretty Religious.


Format: Paperback
ISBN: 9780738770918
Availability:
Out of stock
SHIPPING

Standard Order Processing:

Up to 5 Business Days Post Order Date.

Orders are processed Mon-Fri, excluding public holidays, and specifically outlined holiday break periods.

Please see Shipping for more details
DISCLAIMER

Disclaimer:
ALL products available on this website are sold as curios only.

Dusty Rose Essentials is not responsible for any misuse or outcome of any product. No guarantee is offered for any outcome or result from the use of any product available on this website.

The information provided on this website is for educational purposes only, and accuracy is not guaranteed. It does not replace the advice from licensed medical professionals. It does not diagnose, prescribe for, or treat any health conditions.

Products including but not limited to herbs, resins, and oils are for incense and curios purposes only. 

Products are not for consumption.

Products are not sold for medicinal use and are not to be used for such purposes.

For medicinal purposes, you are required to secure the external services of a licensed medical professional. Dusty Rose Essentials does not provide such a service and does not supply products to suit.
CANDLE SAFETY

Customers must source current and up-to-date information prior to using all candles and must use them in a safe and responsible way. The information provided on this website and here is for general information only, and accuracy is not guaranteed. Dusty Rose Essentials is not liable for any misuse or outcome of any product.