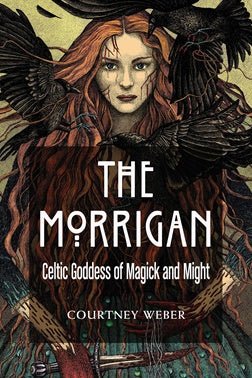 The Morrigan
Original price
$20.00
-
Original price
$20.00
The Morrigan : Celtic Goddess Of Magick and Might
Author: Courtney Weber 
The Morrigan is one of Pagan Ireland's most famous--and notorious--goddesses. Her name translated as "phantom queen" or "great queen," the Morrigan is famous for being a goddess of war, witchcraft and death, protection and retribution. This book also explores her patronage of motherhood, healing, shapeshifting, and the land. Classified among the Sidhe (fairies), the Morrigan dates back at least to Ireland's Iron Age, but she is as modern as she is ancient―enjoying a growing contemporary and global following. Author Courtney Weber provides a guide for the modern devotee of this complex, mysterious goddess that encompasses practical veneration with modern devotionals, entwined with traditional lore and Irish-Celtic history.
Availability:
Only 1 left!
SHIPPING

Standard Order Processing:

Up to 5 Business Days Post Order Date.

Orders are processed Mon-Fri, excluding public holidays, and specifically outlined holiday break periods.

Please see Shipping for more details
DISCLAIMER

Disclaimer:
ALL products available on this website are sold as curios only.

Dusty Rose Essentials is not responsible for any misuse or outcome of any product. No guarantee is offered for any outcome or result from the use of any product available on this website.

The information provided on this website is for educational purposes only, and accuracy is not guaranteed. It does not replace the advice from licensed medical professionals. It does not diagnose, prescribe for, or treat any health conditions.

Products including but not limited to herbs, resins, and oils are for incense and curios purposes only. 

Products are not for consumption.

Products are not sold for medicinal use and are not to be used for such purposes.

For medicinal purposes, you are required to secure the external services of a licensed medical professional. Dusty Rose Essentials does not provide such a service and does not supply products to suit.
CANDLE SAFETY

Customers must source current and up-to-date information prior to using all candles and must use them in a safe and responsible way. The information provided on this website and here is for general information only, and accuracy is not guaranteed. Dusty Rose Essentials is not liable for any misuse or outcome of any product.