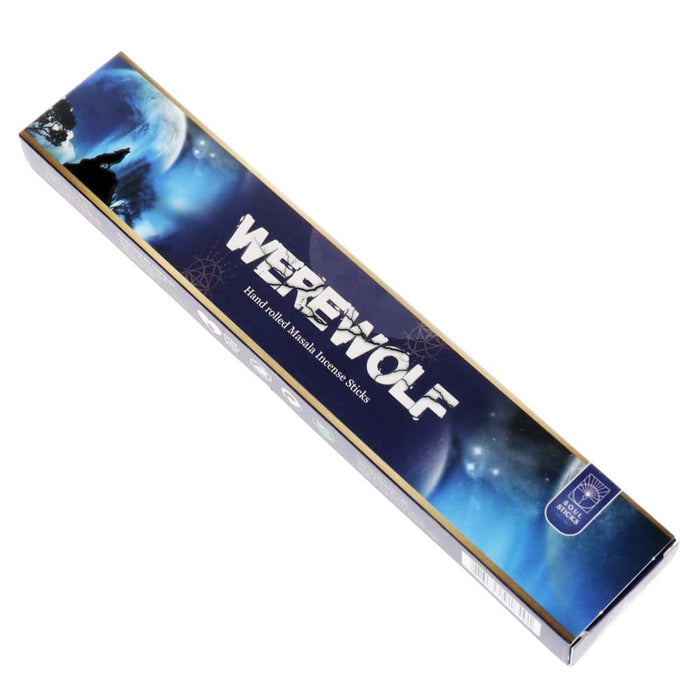 Soul Sticks Incense Sticks Werewolf 15 G
Original price
$2.00
-
Original price
$2.00
Soul Sticks Hand Rolled Masala Incense Sticks in scent Werewolf- Ambrette, Cistus Labdanum, Incense, Kashmir Fusion, Oudh, and Violet
Experience the rich combination of Ambrette, Cistus Labdanum, Incense, Kashmir Fusion, Oudh, and Violet with Soul Sticks Incense Sticks. Enjoy the calming aroma that will leave your senses feeling relaxed. 100% natural, each stick is hand-rolled in India and burns for up to 45 minutes. Ideal for promoting tranquillity, Werewolf is an exceptional choice for meditation, yoga, or rest.
15-gram pack

Child labour and 

animal

cruelty

free.
'Soul Sticks incense is a traditional aromatic herbal incense handmade in Bangalore, India. This incense is an organic blend of herbs and flowers that has been prepared in accordance with centuries old traditional Ayurvedic recipes.  A mixture of over 38 different Himalayan herbs and spices are pressed together into a masala preparation and hand rolled to make into natural organic incense sticks.'
Availability:
11 in stock, ready to be shipped
SHIPPING

Standard Order Processing:

Up to 5 Business Days Post Order Date.

Orders are processed Mon-Fri, excluding public holidays, and specifically outlined holiday break periods.

Please see Shipping for more details
DISCLAIMER

Disclaimer:
ALL products available on this website are sold as curios only.

Dusty Rose Essentials is not responsible for any misuse or outcome of any product. No guarantee is offered for any outcome or result from the use of any product available on this website.

The information provided on this website is for educational purposes only, and accuracy is not guaranteed. It does not replace the advice from licensed medical professionals. It does not diagnose, prescribe for, or treat any health conditions.

Products including but not limited to herbs, resins, and oils are for incense and curios purposes only. 

Products are not for consumption.

Products are not sold for medicinal use and are not to be used for such purposes.

For medicinal purposes, you are required to secure the external services of a licensed medical professional. Dusty Rose Essentials does not provide such a service and does not supply products to suit.
CANDLE SAFETY

Customers must source current and up-to-date information prior to using all candles and must use them in a safe and responsible way. The information provided on this website and here is for general information only, and accuracy is not guaranteed. Dusty Rose Essentials is not liable for any misuse or outcome of any product.