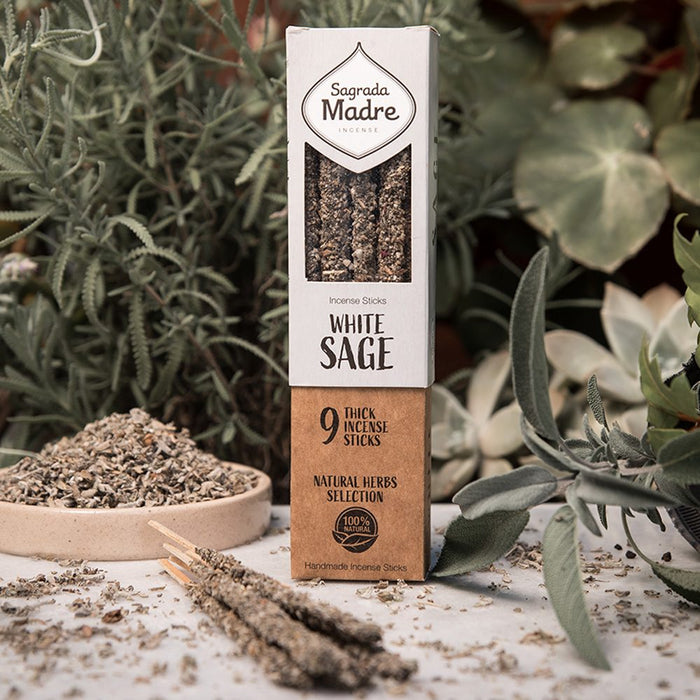 Sagrada Madre Natural Herbs & Flowers Incense- White Sage
Original price
$8.00
-
Original price
$8.00
These beautiful 100% Natural handmade White Sage Incense Sticks are from Sagrada Madre's Natural Herbs & Flowers Incense range. Each pack contains 9 sticks which are much thicker than standard incense sticks and are packaged in eco-friendly cardboard. Each 18 cm stick lasts for approximately 45-55 minutes. 
'White Sage is widely used for its' healing mystical power, spiritual protection, atmospheric cleansing and abundance. The smoke resulting from burning these leaves purifies the environment, especially those of commercial establishments, generating a sense of peace and economic prosperity.'
Sagrada Madre is Made in Argentina. These incense sticks made from White Sage, Copal, Natural Carbon, Natural Binder, and Salt.'
Availability:
4 in stock, ready to be shipped
SHIPPING

Standard Order Processing:

Up to 5 Business Days Post Order Date.

Orders are processed Mon-Fri, excluding public holidays, and specifically outlined holiday break periods.

Please see Shipping for more details
DISCLAIMER

Disclaimer:
ALL products available on this website are sold as curios only.

Dusty Rose Essentials is not responsible for any misuse or outcome of any product. No guarantee is offered for any outcome or result from the use of any product available on this website.

The information provided on this website is for educational purposes only, and accuracy is not guaranteed. It does not replace the advice from licensed medical professionals. It does not diagnose, prescribe for, or treat any health conditions.

Products including but not limited to herbs, resins, and oils are for incense and curios purposes only. 

Products are not for consumption.

Products are not sold for medicinal use and are not to be used for such purposes.

For medicinal purposes, you are required to secure the external services of a licensed medical professional. Dusty Rose Essentials does not provide such a service and does not supply products to suit.
CANDLE SAFETY

Customers must source current and up-to-date information prior to using all candles and must use them in a safe and responsible way. The information provided on this website and here is for general information only, and accuracy is not guaranteed. Dusty Rose Essentials is not liable for any misuse or outcome of any product.