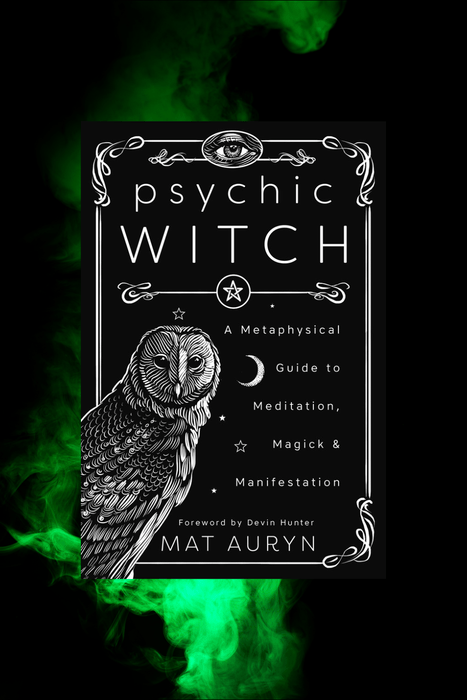 Psychic Witch
Sold out
Original price
$23.00
-
Original price
$23.00
Psychic Witch ~ A Metaphysical Guide to Meditation, Magick & Manifestation
Author: Mat Auryn, Forward By:  Devin Hunter
Uncover the Secrets to Becoming a Powerful Psychic Witch.

Popular writer and Witch Mat Auryn reveals his most closely guarded tips, practices, and meditations for unlocking your psychic abilities and elevating your witchcraft into exciting new territory. Featuring over ninety exercises, this groundbreaking book helps your magick and your senses reach their full potential.

Witchcraft and psychism are two sides of the same coin-they complement and strengthen one another. Psychic Witch provides everything you need to not only master the perception and manipulation of energy, but also to perform magick anywhere and at any time. This ingenious book teaches you how to use subtle energy in new ways and manifest your perceptions into instant magickal results.

"Mat Auryn is truly one of the most valuable voices in the witchcraft community today."-Danielle Dulsky, author of The Holy Wild

Mat Auryn is a witch, writer, psychic, and occult teacher. He is an initiate of Black Rose Witchcraft and a priest in the Sacred Fires Tradition of Witchcraft. He writes the blog For Puck's Sake on Patheos Pagan, has a column in Witches & Pagans and Horns magazines, and is a contributor to Modern Witch and The Witches' Almanac.
FORMAT: Paperback
ISBN: 9780738760841
Availability:
Out of stock
SHIPPING

Standard Order Processing:

Up to 5 Business Days Post Order Date.

Orders are processed Mon-Fri, excluding public holidays, and specifically outlined holiday break periods.

Please see Shipping for more details
DISCLAIMER

Disclaimer:
ALL products available on this website are sold as curios only.

Dusty Rose Essentials is not responsible for any misuse or outcome of any product. No guarantee is offered for any outcome or result from the use of any product available on this website.

The information provided on this website is for educational purposes only, and accuracy is not guaranteed. It does not replace the advice from licensed medical professionals. It does not diagnose, prescribe for, or treat any health conditions.

Products including but not limited to herbs, resins, and oils are for incense and curios purposes only. 

Products are not for consumption.

Products are not sold for medicinal use and are not to be used for such purposes.

For medicinal purposes, you are required to secure the external services of a licensed medical professional. Dusty Rose Essentials does not provide such a service and does not supply products to suit.
CANDLE SAFETY

Customers must source current and up-to-date information prior to using all candles and must use them in a safe and responsible way. The information provided on this website and here is for general information only, and accuracy is not guaranteed. Dusty Rose Essentials is not liable for any misuse or outcome of any product.