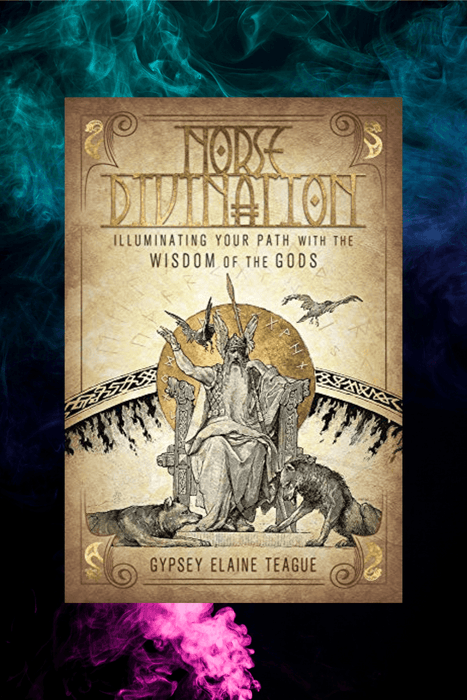 Norse Divination
Original price
$23.00
-
Original price
$23.00
Norse Divination~ Illuminating Your Path With The Wisdom Of The Gods
Author: Gypsey Elaine Teague
"Reveal your life's path in a brand new way wit Norse Divination, the only book designed around the Nordic gods themselves rather than the Futhark.  Through concise yet enlightening analyses of these deities and their relationships to each other, you'll unlock answers to our deepest questions and find more happiness and success. 
An excellent primer on Norse mythology, this book teaches you how to easily create your own 36 piece divination set and use it to explore the gods and goddesses' beliefs, customs, loves, and deaths.  Each deity, along with important mythological items, has a dedicated chapter outlining who they are, what their role is, and how they can help you divine the best course of action in any scenario. Featuring clear and thorough instruction on how to read all 36 pieces in their past, present, and future positions, Norse Divination helps you harness hidden knowledge and forge a unique practice"
Availability:
Only 1 left!
SHIPPING

Standard Order Processing:

Up to 5 Business Days Post Order Date.

Orders are processed Mon-Fri, excluding public holidays, and specifically outlined holiday break periods.

Please see Shipping for more details
DISCLAIMER

Disclaimer:
ALL products available on this website are sold as curios only.

Dusty Rose Essentials is not responsible for any misuse or outcome of any product. No guarantee is offered for any outcome or result from the use of any product available on this website.

The information provided on this website is for educational purposes only, and accuracy is not guaranteed. It does not replace the advice from licensed medical professionals. It does not diagnose, prescribe for, or treat any health conditions.

Products including but not limited to herbs, resins, and oils are for incense and curios purposes only. 

Products are not for consumption.

Products are not sold for medicinal use and are not to be used for such purposes.

For medicinal purposes, you are required to secure the external services of a licensed medical professional. Dusty Rose Essentials does not provide such a service and does not supply products to suit.
CANDLE SAFETY

Customers must source current and up-to-date information prior to using all candles and must use them in a safe and responsible way. The information provided on this website and here is for general information only, and accuracy is not guaranteed. Dusty Rose Essentials is not liable for any misuse or outcome of any product.