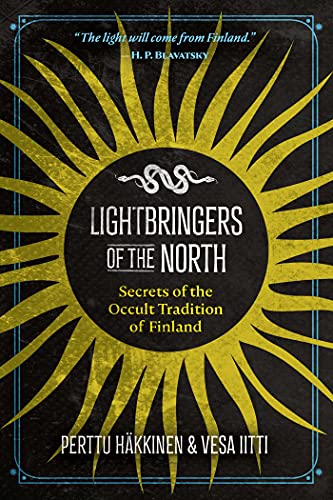 Lightbringers Of The North
Original price
$33.00
-
Original price
$33.00
Lightbringers Of The North ~ Secrets of the Occult Tradition of Finland
Auhors: PERITTU HÄKKINEN & VESA IITTI
 Finland has long been viewed as the land of sorcerers and shamans. Exploring the rich history of Finnish occultism, Perttu Häkkinen and Vesa Iitti examine the significant figures and groups of Finland's occult world from the late 19th century to the present day. They begin with Pekka Ervast, known as the Rudolf Steiner of the North, who was a major figure in Theosophy before starting a Rosicrucian group called Ruusu-Risti, and they look at the Finnish disciples of G. I. Gurdjieff and the grim case of the cult of Tattarisuo.
Investigating the relationship of nationalism and esotericism in Finland, the authors tell the stories of Sigurd Wettenhovi-Aspa, who thought that Finns were the root of all Western civilization, and of Yrjö von Grönhagen, who became a close friend of Heinrich Himmler and Karl Maria Wiligut. They also explore the history of Finnish parapsychology, the Finnish UFO craze, and the unique evolution of Freemasonry in Finland, showing how, when the Masonic order was banned, adherents created a number of other secret societies, such as the Carpenter's Order, the Hypotenuse Order, and the Brotherhood of February 17-whichlater became hubs for the OTO and AMORC.

Unveiling both the light and dark sides of modern esotericism in Finland, the authors show how, because of its unique position as partially European and partially Russian, Finland's occult influence extends into the very heart of left-hand and right-hand occult groups and secret societies around the world.

PERTTU EINO HAKKINEN (1979-2018) was a journalist, writer, and musician from Helsinki, Finland.  Häkkinen held a master's degree in philosophy and was a founder of the band Imatra Voima.
VESA IITTl is a Finnish writer and translator with a master's degree in comparative religion from the University of Turku. He lives in Turku, Finland.


ISBN: 9781644114636
Format: Paperback
Availability:
2 in stock, ready to be shipped
SHIPPING

Standard Order Processing:

Up to 5 Business Days Post Order Date.

Orders are processed Mon-Fri, excluding public holidays, and specifically outlined holiday break periods.

Please see Shipping for more details
DISCLAIMER

Disclaimer:
ALL products available on this website are sold as curios only.

Dusty Rose Essentials is not responsible for any misuse or outcome of any product. No guarantee is offered for any outcome or result from the use of any product available on this website.

The information provided on this website is for educational purposes only, and accuracy is not guaranteed. It does not replace the advice from licensed medical professionals. It does not diagnose, prescribe for, or treat any health conditions.

Products including but not limited to herbs, resins, and oils are for incense and curios purposes only. 

Products are not for consumption.

Products are not sold for medicinal use and are not to be used for such purposes.

For medicinal purposes, you are required to secure the external services of a licensed medical professional. Dusty Rose Essentials does not provide such a service and does not supply products to suit.
CANDLE SAFETY

Customers must source current and up-to-date information prior to using all candles and must use them in a safe and responsible way. The information provided on this website and here is for general information only, and accuracy is not guaranteed. Dusty Rose Essentials is not liable for any misuse or outcome of any product.