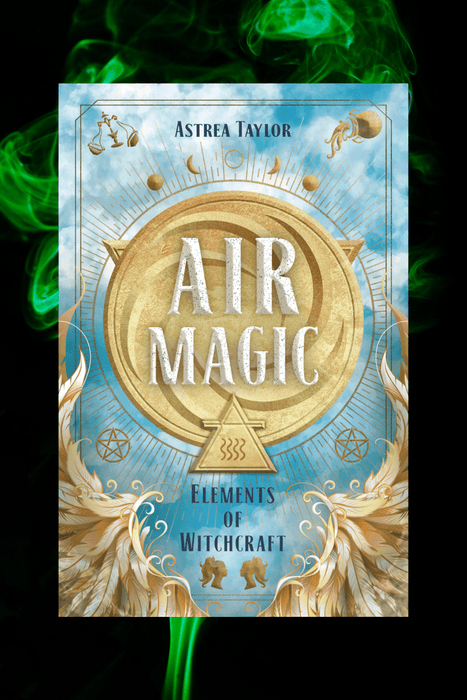 Air Magic ~ Elements Of Witchcraft
Original price
$25.00
-
Original price
$25.00
Air Magic ~ Elements Of Witchcraft
Author: Astrea Taylor
INSPIRE YOUR CRAFT WITH THE HISTORY, LORE, AND PRACTICE OF AIR MAGIC

Filled with spells, rituals, meditations, and correspondences, this impressive entry in Llewellyn's Elements of Witchcraft series strengthens your connection to the element of air. Astrea Taylor presents amazing methods for activating the air energy within you and raising your practice to new heights.

Learn about the magical realm of air and how to transmit your intentions into it. Enhance your spiritual practice with a deeper awareness of the magic of words, incense, wind, sounds, and aromas.  This enlightening book also features contributions from well-known writers, including Laura Tempest Zakroff and Phoenix LeFae.  With captivating insights on air deities, animal guides, sacred sites, herbs, crystals, and more, Air Magic empowers you to harness the element of air and take flight.
ISBN 9780738764313
Format: Paperback
Availability:
Only 1 left!
SHIPPING

Standard Order Processing:

Up to 5 Business Days Post Order Date.

Orders are processed Mon-Fri, excluding public holidays, and specifically outlined holiday break periods.

Please see Shipping for more details
DISCLAIMER

Disclaimer:
ALL products available on this website are sold as curios only.

Dusty Rose Essentials is not responsible for any misuse or outcome of any product. No guarantee is offered for any outcome or result from the use of any product available on this website.

The information provided on this website is for educational purposes only, and accuracy is not guaranteed. It does not replace the advice from licensed medical professionals. It does not diagnose, prescribe for, or treat any health conditions.

Products including but not limited to herbs, resins, and oils are for incense and curios purposes only. 

Products are not for consumption.

Products are not sold for medicinal use and are not to be used for such purposes.

For medicinal purposes, you are required to secure the external services of a licensed medical professional. Dusty Rose Essentials does not provide such a service and does not supply products to suit.
CANDLE SAFETY

Customers must source current and up-to-date information prior to using all candles and must use them in a safe and responsible way. The information provided on this website and here is for general information only, and accuracy is not guaranteed. Dusty Rose Essentials is not liable for any misuse or outcome of any product.