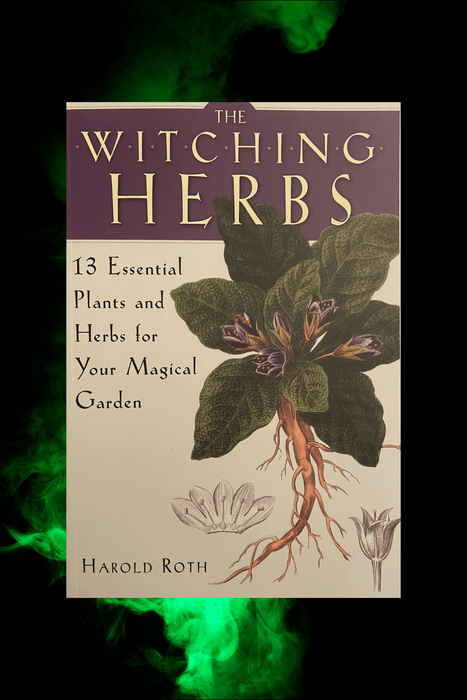 The Witching Herbs
Original price
$23.00
-
Original price
$23.00
The Witching Herbs
Author: Harlod Roth
HAROLD ROTH, founder of Alchemy Works, is a leading authority on plants and herbal magic. The Witching Herbs, is an in-depth exploration of thirteen essential plants and herbs most closely associated with witchcraft-thirteen because it's the witching number and reflects the thirteen months of the lunar calendar. The plants are poppy, clary sage, yarrow, rue, hyssop, vervain, mugwort, wormwood, datura, wild tobacco, henbane, belladonna, and mandrake.

The Witching Herbs offers a vast amount of esoteric information that is not easily found elsewhere. Written simply and clearly, this material is accessible to all readers and a valuable addition for those who already have extensive experience and libraries.  The Witching Herbs is unique in that it combines mysticism with practical instructions for growing each plant, based on Roth's thirty years of gardening expertise. Each chapter focuses on one plant and includes information on its unique plant spirit familiar, clear how-to instructions for magical projects, and pragmatic information on growing and cultivating.

Roth writes, "This book is a great choice for intermediate to advanced witches who would like to work more closely with the traditional witching herbs, especially the baneful plants with their rather difficult spirits. Working directly with spirits is one of the fundamentals of the Craft."

Roth is not only a successful gardener but also a magician and scholar of the occult. No other book blends clear, practical gardening techniques with equally lucid and sophisticated plant magic so successfully.
Format: Paperback
ISBN: 9781578635993
Availability:
Only 1 left!
SHIPPING

Standard Order Processing:

Up to 5 Business Days Post Order Date.

Orders are processed Mon-Fri, excluding public holidays, and specifically outlined holiday break periods.

Please see Shipping for more details
DISCLAIMER

Disclaimer:
ALL products available on this website are sold as curios only.

Dusty Rose Essentials is not responsible for any misuse or outcome of any product. No guarantee is offered for any outcome or result from the use of any product available on this website.

The information provided on this website is for educational purposes only, and accuracy is not guaranteed. It does not replace the advice from licensed medical professionals. It does not diagnose, prescribe for, or treat any health conditions.

Products including but not limited to herbs, resins, and oils are for incense and curios purposes only. 

Products are not for consumption.

Products are not sold for medicinal use and are not to be used for such purposes.

For medicinal purposes, you are required to secure the external services of a licensed medical professional. Dusty Rose Essentials does not provide such a service and does not supply products to suit.
CANDLE SAFETY

Customers must source current and up-to-date information prior to using all candles and must use them in a safe and responsible way. The information provided on this website and here is for general information only, and accuracy is not guaranteed. Dusty Rose Essentials is not liable for any misuse or outcome of any product.