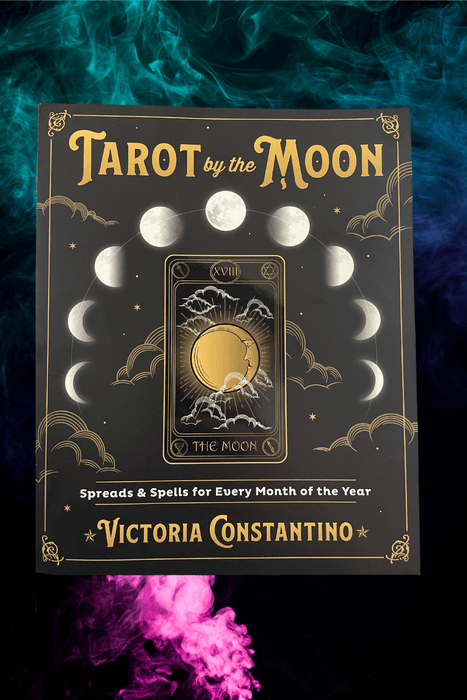 Tarot By The Moon
Sold out
Original price
$39.99
-
Original price
$39.99
Tarot By The Moon~ Spreads & Spells For Every Month Of The Year
Author: Victoria Constantino 
A MONTH-BY-MONTH GUIDE TO SPREADS AND SPELLS FOR ABUNDANCE, PROTECTION, AND SPIRITUAL TRANSFORMATION.
The energy of the moon has an undeniably powerful influence on people, on plants and animals, and on the cycles and rhythms of the world. This book provides month-by-
month tarot spreads, spells, and rituals to help you manifest the changes you want for yourself and your community.
Author Victoria Constantino provides guidance for the ideal time, day of the week, or moon phase that best supports the specific spiritual work that you want to focus on.  Explore spells and practices for home clearing and blessing, summoning a new career opportunity, finding your spirit animal, cutting cords, and many others.
Delve into tarot with spreads for relationship renewal, connecting with your higher self, letting go, tapping into your potential, and more. Tarot by the Moon is a masterful guide to creating positive transformation with the cyclical magical energies that play such a powerful role in our lives.
ISBN: 9780738767123
Format: Paperback
Availability:
Out of stock
SHIPPING

Standard Order Processing:

Up to 5 Business Days Post Order Date.

Orders are processed Mon-Fri, excluding public holidays, and specifically outlined holiday break periods.

Please see Shipping for more details
DISCLAIMER

Disclaimer:
ALL products available on this website are sold as curios only.

Dusty Rose Essentials is not responsible for any misuse or outcome of any product. No guarantee is offered for any outcome or result from the use of any product available on this website.

The information provided on this website is for educational purposes only, and accuracy is not guaranteed. It does not replace the advice from licensed medical professionals. It does not diagnose, prescribe for, or treat any health conditions.

Products including but not limited to herbs, resins, and oils are for incense and curios purposes only. 

Products are not for consumption.

Products are not sold for medicinal use and are not to be used for such purposes.

For medicinal purposes, you are required to secure the external services of a licensed medical professional. Dusty Rose Essentials does not provide such a service and does not supply products to suit.
CANDLE SAFETY

Customers must source current and up-to-date information prior to using all candles and must use them in a safe and responsible way. The information provided on this website and here is for general information only, and accuracy is not guaranteed. Dusty Rose Essentials is not liable for any misuse or outcome of any product.