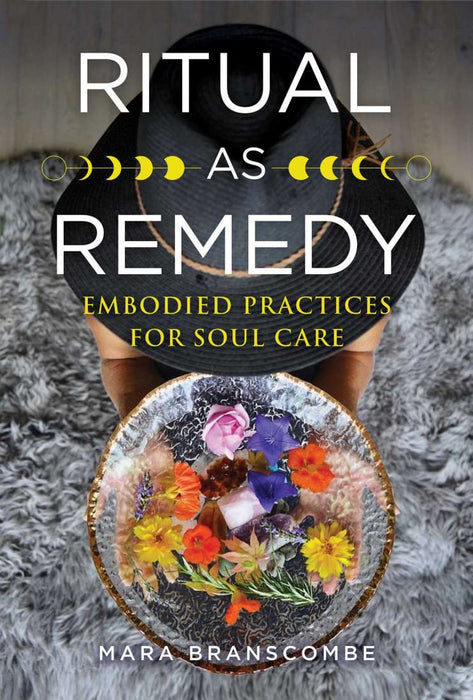 Ritual As Remedy
Original price
$20.00
-
Original price
$20.00
Ritual As Remedy ~ Embodied Practiced For Soul Care
Author: Mara Branscombe
HEALING BALM for psyche and soul, ritual invokes a unique magic that allows us to step beyond the mundane and touch base with the sacred turning points in our life and the truth of our soul's calling.

In this evocative guide, Mara Branscombe offers potent soul-care rituals and ceremonies to purify and strengthen minds, hearts, and bodies, so as to enable us to activate our inner power. Connecting with the pagan wheel of the year, the five elements, and the lunar cycle, soul-stirring rituals and step-by-step healing protocols show a path towards a deeper, heart-centered living. Transformative practices such as guided meditations and visualizations, breathwork, altar creation, and discovery of our personal empowerment mantras facilitate our healing journey.  Ancient and modern ceremonies and specific spiritual formulas help us embody a loving existence, dance with our shadow self, engage with grief, grow our intuition, dismantle limiting beliefs, and heal toxic patterns to find inner strength and peace.

Ritual as Remedy is an invitation to shape-shift, heal, transform, and reclaim one's true soul purpose through powerful self-care protocols that awaken freedom, joy, and a wild, untamed self-love.
Availability:
Only 1 left!
SHIPPING

Standard Order Processing:

Up to 5 Business Days Post Order Date.

Orders are processed Mon-Fri, excluding public holidays, and specifically outlined holiday break periods.

Please see Shipping for more details
DISCLAIMER

Disclaimer:
ALL products available on this website are sold as curios only.

Dusty Rose Essentials is not responsible for any misuse or outcome of any product. No guarantee is offered for any outcome or result from the use of any product available on this website.

The information provided on this website is for educational purposes only, and accuracy is not guaranteed. It does not replace the advice from licensed medical professionals. It does not diagnose, prescribe for, or treat any health conditions.

Products including but not limited to herbs, resins, and oils are for incense and curios purposes only. 

Products are not for consumption.

Products are not sold for medicinal use and are not to be used for such purposes.

For medicinal purposes, you are required to secure the external services of a licensed medical professional. Dusty Rose Essentials does not provide such a service and does not supply products to suit.
CANDLE SAFETY

Customers must source current and up-to-date information prior to using all candles and must use them in a safe and responsible way. The information provided on this website and here is for general information only, and accuracy is not guaranteed. Dusty Rose Essentials is not liable for any misuse or outcome of any product.