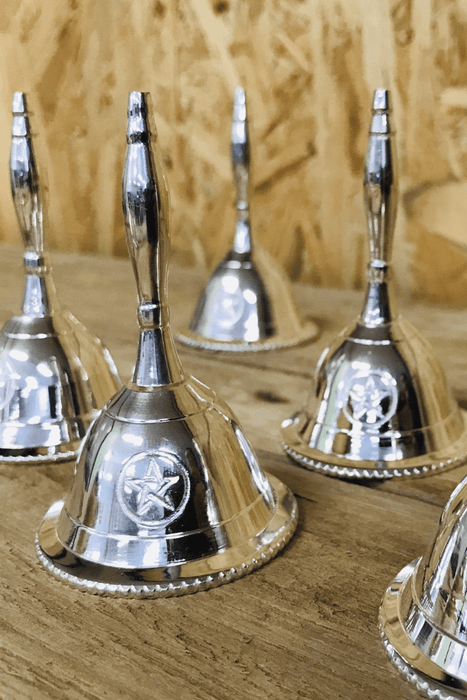 Pentacle Altar Bell ~ Silver Tone
Original price
$9.00
-
Original price
$9.00
Brass Bell featuring stamped Pentacle, 4.5 x 7 cm, silver in colour.
You can use your bell for your Altar and in cleansing rituals among other uses.
Purify unwanted energies, call in protective help, restore balance in your home and life. There are many uses that you will come across for a clearing bell and you will find it to be an extremely useful tool during rituals.
 Care Instructions: metal objects, in this instance metal bells (brass plated), often tarnish over time and naturally form a patina. Regular and gentle buffing can help to maintain or minimise the extent of the patina. For removal of patina there are several methods available online. Although, you may prefer not to remove, maintain, or minimise the patina if you would like to achieve the naturally aged look that comes with the appearance of the patina. The forming of a patina is a natural process for metal objects and is not a flaw with the product. 
Availability:
3 in stock, ready to be shipped
SHIPPING

Standard Order Processing:

Up to 5 Business Days Post Order Date.

Orders are processed Mon-Fri, excluding public holidays, and specifically outlined holiday break periods.

Please see Shipping for more details
DISCLAIMER

Disclaimer:
ALL products available on this website are sold as curios only.

Dusty Rose Essentials is not responsible for any misuse or outcome of any product. No guarantee is offered for any outcome or result from the use of any product available on this website.

The information provided on this website is for educational purposes only, and accuracy is not guaranteed. It does not replace the advice from licensed medical professionals. It does not diagnose, prescribe for, or treat any health conditions.

Products including but not limited to herbs, resins, and oils are for incense and curios purposes only. 

Products are not for consumption.

Products are not sold for medicinal use and are not to be used for such purposes.

For medicinal purposes, you are required to secure the external services of a licensed medical professional. Dusty Rose Essentials does not provide such a service and does not supply products to suit.
CANDLE SAFETY

Customers must source current and up-to-date information prior to using all candles and must use them in a safe and responsible way. The information provided on this website and here is for general information only, and accuracy is not guaranteed. Dusty Rose Essentials is not liable for any misuse or outcome of any product.