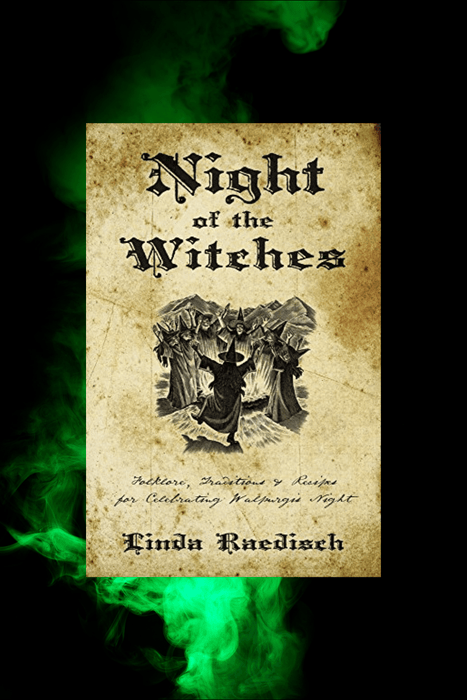 Night of the Witches
Original price
$20.00
-
Original price
$20.00
Night of the Witches ~ Folklore, Traditions & Recipes for Celebrating Walpurgis Night
Author: Linda Raedisch
Spring has come to the northern forest. The evening windblows cold as the breath of the frost giants. Just overhead, there is a sound like the rushing of crows' wings. Can it be a coven of witches has flown over these woods?
On any other night, you would probably swear that there was no such thing as a witch-at least, not the kind who streaks through the sky on a broomstick with guttering taper and billowing cloak. But this is no ordinary night; it is the thirtieth of April, the eve of May. Tonight is Walpurgis Night.

A Treasury of Magic and Witch-lore for Celebrating Walpurgisnacht 

The roots of Walpurgis Night reach deep into the Pagan past, and modern Europeans celebrate it with as much abandon as their ancestors.  Learn about the sacred rites of spring and the thirteen herbs that correspond with the Night of the Witches. Discover how this "lost" holiday has changed from a lusty fertility festival to a children's night of fun and treats. Learn about brooms and how to make one, and meet a collection of old-time witches, from Ash Wives to Wolf Crones. This charming, impeccably researched book features a wealth of folklore and herblore, plus original and traditional recipes, crafts, and activities.

Linda Raedisch writes and lectures on a wide variety of arcane topics. She is a longtime library employee and professional crafts instructor who teaches classes on candle making, broom-making, and other old-time homemaking arts.
FORMAT: Paperback
ISBN:9780738720586
Availability:
Only 1 left!
SHIPPING

Standard Order Processing:

Up to 5 Business Days Post Order Date.

Orders are processed Mon-Fri, excluding public holidays, and specifically outlined holiday break periods.

Please see Shipping for more details
DISCLAIMER

Disclaimer:
ALL products available on this website are sold as curios only.

Dusty Rose Essentials is not responsible for any misuse or outcome of any product. No guarantee is offered for any outcome or result from the use of any product available on this website.

The information provided on this website is for educational purposes only, and accuracy is not guaranteed. It does not replace the advice from licensed medical professionals. It does not diagnose, prescribe for, or treat any health conditions.

Products including but not limited to herbs, resins, and oils are for incense and curios purposes only. 

Products are not for consumption.

Products are not sold for medicinal use and are not to be used for such purposes.

For medicinal purposes, you are required to secure the external services of a licensed medical professional. Dusty Rose Essentials does not provide such a service and does not supply products to suit.
CANDLE SAFETY

Customers must source current and up-to-date information prior to using all candles and must use them in a safe and responsible way. The information provided on this website and here is for general information only, and accuracy is not guaranteed. Dusty Rose Essentials is not liable for any misuse or outcome of any product.