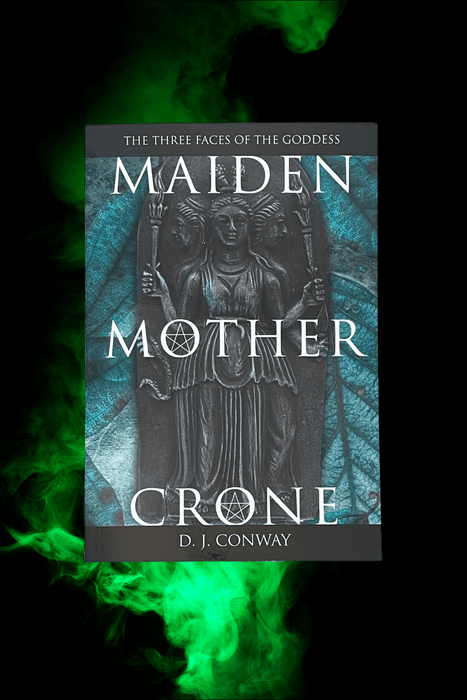 Maiden, Mother, Crone
Sold out
Original price
$23.00
-
Original price
$23.00
Maiden, Mother, Crone
Author: D.J. Conway
 GODDESS LORE FROM AROUND THE WORLD
The feminine divine is the balancing principle that has been missing from our human spiritual evolution for too long. Maiden, Mother, Crone explores our lost but vital connection with the Goddess in all her diverse and glorious myths and archetypes, with goddess lore from around the world.
Meet Siren, Ceres, Freyja, and others as you become reacquainted with your inner goddess through understanding each aspect of her: Maiden, from infant to puberty; Mother, adult and parent; and Crone, the wise elder. The simple rituals and guided meditations will help you attain awareness and strength, while a dictionary of mythic symbols lends practical support.

A native of the Pacific Northwest, D. J. Conway has studied the occult fields for nearly fifty years. Her quest for knowledge has covered every aspect of Paganism and Wicca to New Age and Eastern philosophies; plus history, the magical arts, philosophy, customs, mythologies and folklore. Her other books include Celtic Magic, Norse Magic, Moon Magick, Dancing with Dragons, and By Oak, Ash & Thorn.
FORMAT: Paperback
ISBN: 9780875421711
Availability:
Out of stock
SHIPPING

Standard Order Processing:

Up to 5 Business Days Post Order Date.

Orders are processed Mon-Fri, excluding public holidays, and specifically outlined holiday break periods.

Please see Shipping for more details
DISCLAIMER

Disclaimer:
ALL products available on this website are sold as curios only.

Dusty Rose Essentials is not responsible for any misuse or outcome of any product. No guarantee is offered for any outcome or result from the use of any product available on this website.

The information provided on this website is for educational purposes only, and accuracy is not guaranteed. It does not replace the advice from licensed medical professionals. It does not diagnose, prescribe for, or treat any health conditions.

Products including but not limited to herbs, resins, and oils are for incense and curios purposes only. 

Products are not for consumption.

Products are not sold for medicinal use and are not to be used for such purposes.

For medicinal purposes, you are required to secure the external services of a licensed medical professional. Dusty Rose Essentials does not provide such a service and does not supply products to suit.
CANDLE SAFETY

Customers must source current and up-to-date information prior to using all candles and must use them in a safe and responsible way. The information provided on this website and here is for general information only, and accuracy is not guaranteed. Dusty Rose Essentials is not liable for any misuse or outcome of any product.