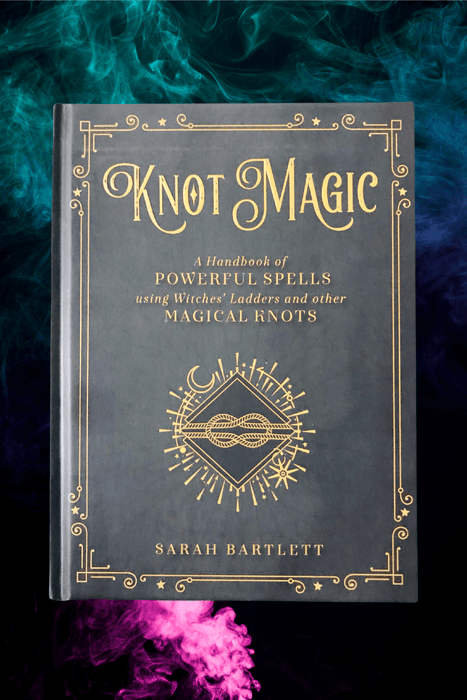 Knot Magic
Sold out
Original price
$23.00
-
Original price
$23.00
Authour: Sarah Bartlett
Harness the secret power of enchanted knots with Knot Magic. Cast powerful spells with ancient knot magic that has been around for centuries. With a length of string, ribbon, cord, or anything that can be knotted, you can quickly make magic work for you, whether to enchant new love into your life, change your fortune, or manifest your dreams.
You'll learn not only the best way to cast a spell, but also the best time to perform the spell to ensure success. Become a master knot maker as your spells take root. This unique collection includes all-powerful witch's ladders, where additional talismans are woven in with the knots to reinforce the desired outcome, and "unknotting" charms, which banish all forms of negativity.
Enhance your magic and knowledge as you bring positive energy into your life. Plus, you'll have access to a "magical knot directory" that provides the tools you'll need to get started on your magical journey. Knot Magic is an approachable and ideal reference guide for seasoned and curious spiritualists who want to practice knot magic.
Availability:
Out of stock
SHIPPING

Standard Order Processing:

Up to 5 Business Days Post Order Date.

Orders are processed Mon-Fri, excluding public holidays, and specifically outlined holiday break periods.

Please see Shipping for more details
DISCLAIMER

Disclaimer:
ALL products available on this website are sold as curios only.

Dusty Rose Essentials is not responsible for any misuse or outcome of any product. No guarantee is offered for any outcome or result from the use of any product available on this website.

The information provided on this website is for educational purposes only, and accuracy is not guaranteed. It does not replace the advice from licensed medical professionals. It does not diagnose, prescribe for, or treat any health conditions.

Products including but not limited to herbs, resins, and oils are for incense and curios purposes only. 

Products are not for consumption.

Products are not sold for medicinal use and are not to be used for such purposes.

For medicinal purposes, you are required to secure the external services of a licensed medical professional. Dusty Rose Essentials does not provide such a service and does not supply products to suit.
CANDLE SAFETY

Customers must source current and up-to-date information prior to using all candles and must use them in a safe and responsible way. The information provided on this website and here is for general information only, and accuracy is not guaranteed. Dusty Rose Essentials is not liable for any misuse or outcome of any product.